Archive pour la catégorie 'WALLS'
thanks again to all people who take care of us, James Natacha Denise Doug Austin Becky Gaetan DjYoda Stacey Mark Kenyon Michelangelo MTO and everyone i met at the Chalk Festival in Sarasota Florida USA…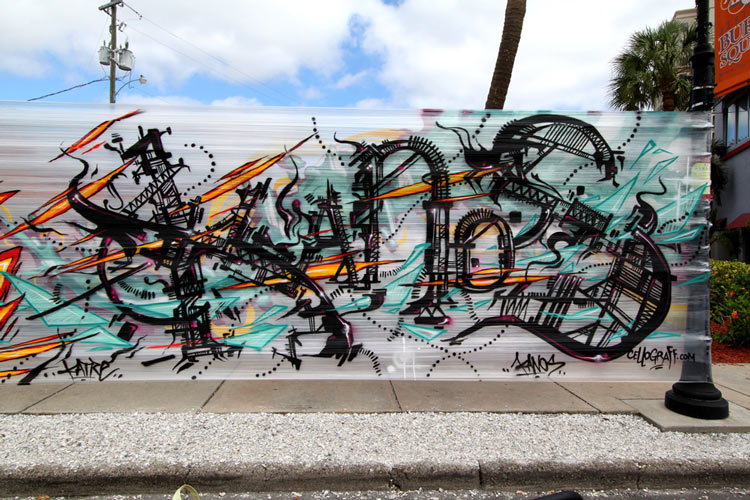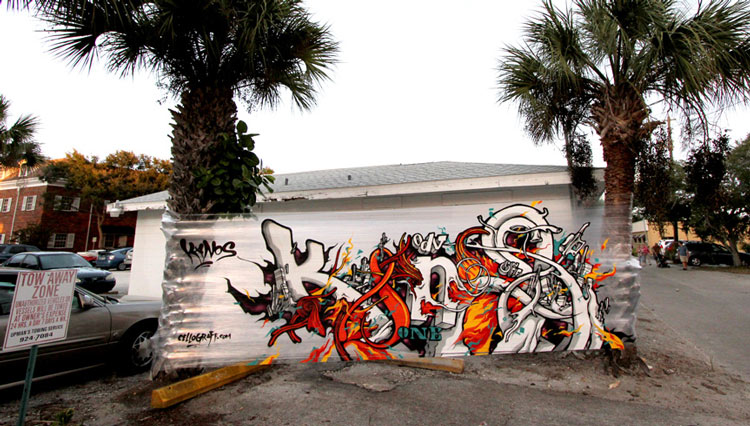 « The people from CelloGraff are back, this time at the 'Chalk festival in Sarasota, Florida', where more than 200 artists get together each year to decorate an avenue with chalk. This year, the organizer, Denise Kowal, invited Cellograff to trade in the vertical with spray paint for horizontal with chalk.
Aquí vuelven la gente de CelloGraff. Esta vez en el Festival de la tiza en Sarasota, Florida., donde más de 200 artistas se reúnen para decorar con tiza el suelo de una avenida cada año. Este año, y dando un giro a su festival,el organizador Denise Kowal ha invitado a Cellograff, apostando por la vertical y por el uso de sprays frente a la tiza.
http://www.cellograff.com
Produced by iKanoGrafik
Music by Akua Naru, Rhyme-Writer´s High prod Drum Kidz for the part1
Music by the pointers sisters for the part2
»
quote from MontanaColors

Cette année la première étape du ODVtour2011 est Strasbourg!
Accueillis par Rensone et son équipe, Katre Astro Esty & Kanos réalisent une peinture à l'abri de la pluie sous un pont bordant les voies ferrées…
La seconde étape du ODVtour2011 est Wiesbaden!
Accueillis par Yours et son équipe, Katre Astro Esty Ogre Stil² & Kanos réalisent une peinture chez nos voisins allemands…
La dernière étape du ODVtour2011 est Perpignan! Accueillis par Flo et son équipe l'Uisc, les Odv prennent part à l'organisation du Meeting of Styles France!… Bonne ambiance garantie!!
MALAKKAI Esp, CISCO Esp, PUTOS Usa, CREN All, DEMON Usa, DGONZ Usa, DYTCH Usa, PERSUE Usa, SKUZ, FLOW, SHANE, DUZA, MORNE, KISER, JUST, DIPS, TEAM, RENSONE, OLSON, JOK, RUDE,
TACKT, PAUM, SKULE, MUTHA, PABLO, HOPE, ESTY, ASEM, HOBYTE, KANOS, ASTUS2, CHEATZ, BIMS, REV, APASH, RESO, SETH2, ASTRO, DASE Esp, HEMS, SERIN, WENS, MITE, NESK, JIM Ang, POESIA Usa, DUZER Usa
STAFF MOS FRANCE:
FLO / JOHN / OMAR / SCALP / PIG / LABURNE / CEDRIC / NASTY / MICHEL / HAMLET / ROMY / LUCIE / CHLOE / SASHA / BABOU / ABBY / ASTRO / KANOS / SKULE / CREN / PUTOS / CHEATZ / ASTUS2 / WENS / NESK / DIPS
ARTISTE SCENE:
Dj DUKE / Dj STRESH / Dj GRAM / Dj ALEX.C / Dj SISQO / EVERYDAYZ / UM / TRA / Dj NASTY
Musique: Rjd2, Montage: iKanoGrafik, Image: Skule, Momar, Kanos, Merci à Flo pour l'accueil!
L'article sur FatCap:
http://www.fatcap.org/article/odv-tour-2011.html